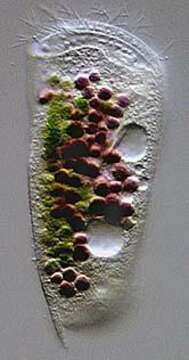 Description:
Portrait of the marine Phyllopharyngeid ciliate, Dysteria brasiliensis (Da Cunha, De Faria & Pinto, 1922). This is one of the largest species of this genus (100-130 um). The cell is elongate and dorsoventrally flattened. The dorsum is arched. The anterior end is truncate and curves dorsally. The posterior terminates in a sharp spinous process (seen here) not to be confused with the ventral posterior podite by which the cell attaches to the substrate (not seen in this image)The pellicle is rigid and colorless. The ciliature is reduced to the ventral surface with 3 longitudinal kineties on the right and 7-8 on the left. There are 2 frontoventral kineties. The cytostome is supported by two stout obliquely situated rods with anterior tooth-like projections. The cytoplasm contains food vacuoles brightly colored with green algae and purple sulfur bacteria. There are two contractile vacuoles. There is a central ellipsoid macronucleus. Collected from a commercial saltwater aquarium in Boise, Idaho. March 2004. DIC optics.
Included On The Following Pages:
This image is not featured in any collections.
Source Information
author

William Bourland

provider
original

partner site

ID

27475064