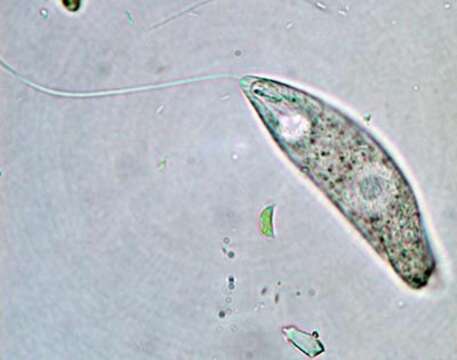 Description:
Portrait of a relatively large (116 microns long) species of Peranema, a common colorless phagotrophic euglenid flagellate. Peranema possesses two flagella but the shorter trailing flagellum is adherent to the body and not ordinarily seen. The thick anterior flagellum is characteristically held straight in with only the distal tip beating. The cell body is elongate and quite plastic exhibiting euglenoid metaboly when not swimming. The posterior end may be truncate or pointed. The anterior reservoir with adjacent contractile vacuole can be seen in this image. The reservoir and its apical opening are separate from the subapical cytostome and the two supporting rods of the ingestion apparatus. These anterior rods are well seen in this image. Pellicular striations are also evident. A prominent nucleus is visible at the junction of the middle and posterior thirds of the cell. From freshwater pond near Boise, Idaho. Brightfield illumination.
Included On The Following Pages:
This image is not featured in any collections.
Source Information
author

William Bourland

provider
original

partner site

ID

27474222