Image of Dusona bicoloripes (Ashmead 1906)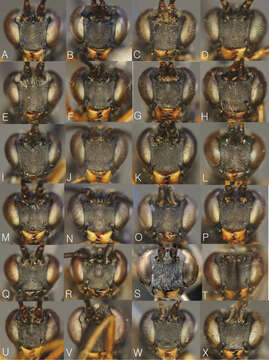 Description:
Figure 4.Head in frontal view. A Dusona annexa (=Dusona americana) B Dusona celator C Dusona glauca D Dusona maruyamator E Dusona petiolator F Dusona rugosa G Dusona falcator H Dusona matsumurae I Dusona schikotani J Dusona signator K Dusona stragifex L Dusona ucrainica M Dusona bellipes N Dusona bicoloripes O Dusona chabarowski P Dusona cultrator Q Dusona japonica R Dusona mactatoides S Dusona scalprata T Dusona sasayamae U Dusona obliterata V Dusona obtutor W Dusona auriculator X Dusona longicauda.
Included On The Following Pages:
This image is not featured in any collections.
Source Information
license

copyright

Jin-Kyung Choi, Jong-Wook Lee
bibliographic citation

Choi J, Lee J (2014) Addition to the study of the genus Dusona (Hymenoptera, Ichneumonidae, Campopleginae) in Korea with description of a new species and key to the Korean species ZooKeys 424: 59–89
original

partner site

ID

zookeys.424.7546.sp_4_p_2