wingless Cockroach feeding on some kind of mildew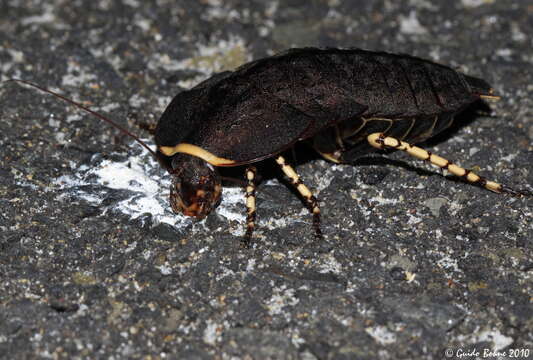 Description:
Polyzosteria cuprea SAUSSURE, 1863Genus: Polyzosteria BURMEISTER, 1838[det. Stephen Thorpe, 2012, based on this photo]Tribus: PolyzosteriiniSubfamily: Polyzosteriinae Family: Blattidae LINNAEUS, 17?? (Wood Cockroaches or Wood Roaches, Waldschaben)Superfamily: BlalttoideaOrder: Blattodea (Syn.: Balttaria; Cockroaches and Termites, Schaben und Termiten)Subclass: Pterygota (Fluginsekten)Class: Insecta (insects, Insekten)Subphylum: HexapodaPhylum: Arthropodamore info: bie.ala.org.au/species/Polyzosteria+cupreaSW-Australia, Nornalup: Conspicuous Cliff, 20m asl., 14.11.2010(IMG_7370)
Included On The Following Pages:
This image is not featured in any collections.
Source Information
original

partner site

ID

f549efab20df312192106f9d9918b26a