Ploiarium alternifolium (Vahl) Melchior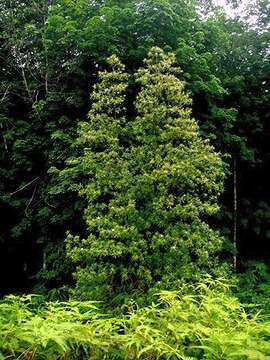 Description:
Rawang, Selangor, Malaysia.Ploiarium alternifolium (Vahl) Melchior. Bonnetiaceae. CN: [Malay - Reriang, Riang-riang, Beriang, Cengkodo hutan (Borneo)], Cicada tree. Understorey tree up to 13 m tall and 18 cm dbh. Stipules absent. Leaves alternate, simple, penni-veined, glabrous, margin sometimes slightly toothed. Flowers ca. 22 mm diameter, white-yellow-pink-red, placed solitary. Fruits ca. 15 mm long, red-blue, dehiscent capsules, opening from base to tip. Usually in open places in scrub or disturbed mixed dipterocarp, kerangas and swamp forests up to 500 m altitude. Mostly on alluvial sites with sandy soils, but also on hillsides and on clay. The wood is used in house construction. Plant is attractive to bees, butterflies and/or birds. Flowers are fragrant.Distribution: Indo-China, Peninsular Malaysia, Sumatra, Borneo (throughout the island).Synonym(s):Archytaea vahlii ChoisyPloiarium elegans KorthRef. and suggested reading:Malayan Forest Records No. 49, Vol. 1www.nationaalherbarium.nl/sungaiwain/Clusiaceae/Ploiarium...davesgarden.com/guides/pf/go/65635/fr.wikipedia.org/wiki/Bonnetiaceae
Included On The Following Pages:
This image is not featured in any collections.
Source Information
license

copyright

Ahmad Fuad Morad
original

partner site

ID

2a5d25d7cd3f501c262068f698e43092