Millettia pinnata (L.) Panigrahi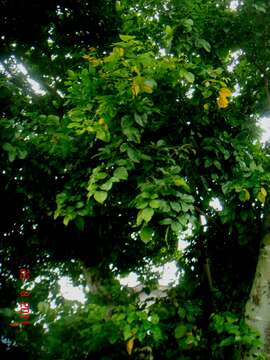 Description:
Alor Setar, Kedah, Malaysia.Millettia pinnata (L.) Panigrahi. Fabaceae. CN: [Malay - Mempari, Kacang kayu laut, Biansu (Sarawak); Javanese - Bangkong], Indian-beech, Karanja, Karumtree, Pongam, Poonga-oil-tree, Seashore mempari, Panigrahi. Native to China, Japan, Taiwan, Indian Subcontinent, Indo-China, Malesia including NW Territory, Queensland, Guam, Tinjan, Palau, Fiji, Samoa; elsewhere naturalized or cultivated. Evergreen, briefly deciduous; treelet to tree up to ca 15-25 m height; leaves impapripinnate; inflorescence raceme-like axillary with strong fragrant flowers. Pods short-stalked, oblique-oblongoid to ellipsoid. Potential sustainable bio-fuel species. Synonym(s):Cytisus pinnatus L. (basionym)Derris indica (Lam.) BennetGaledupa indica Lam.Galedupa pinnata (L.) Taub.Pongamia glabra Vent.Pongamia mitis KurzPongamia pinnata (L.) PierreRef and suggested reading:www.ars-grin.gov/cgi-bin/npgs/html/taxon.pl?418408en.wikipedia.org/wiki/Millettia_pinnatawww.globinmed.com/index.php?option=com_content&view=a...www.millettiaplantations.com/
Included On The Following Pages:
This image is not featured in any collections.
Source Information
license

copyright

Ahmad Fuad Morad
original

partner site

ID

20f50d90e50b83d8ab0f823a0eec8547