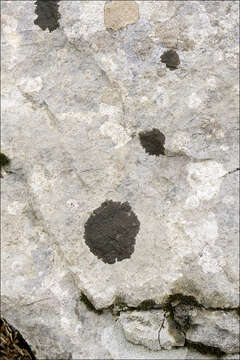 Description:
Verrucaria nigrescens Pers., syn.: Zschackea nigrescens (Pers.) M. Choisy & Werner, Verrucaria umbrina var. nigrescens (Pers.) Ach., Verrucaria rupestris var. nigrescens (Pers.) Branth & Rostr., Tichothecium nigrescens (Pers.) Flot., Lithoicea tectorum A. Massal..Family: Verrucariaceae ZenkerEN: Black Pit Lichen, DE: Schwarze Mauerkruste, Schwrzliche WarzenflechteSlo.: no name foundDat.: April 22. 2021Lat.: 46.35910 Long.: 13.70411Code: Bot_1360/2021-DSC06774 Habitat: Light mountain Fagus sylvatica forest, slightly inclined mountain slope, southeast aspect, calcareous, colluvial ground, in half shade, partly protected from direct rain; average precipitations ~ 3.000 mm/year, average temperature 7-9 deg C, elevations 560 m (1.850 feet), alpine phytogeographical region. Substratum: Bare calcareous rock.Place: Lower Trenta valley, right bank of river Soa; between villages Soa and Trenta; right bank of river Soa, above the main road and the river near Matev farmhouse, Trenta 1, East Julian Alps, Posoje, Slovenia EC. Comment: Verrucaria nigrescens is a very common, circumglobal lichen growing mostly on calcareous rocks. It is common in the Trenta valley too. Its thallus is superficial, not immersed into the rock (endolithic) as with many other Verrucaria species and relatively thick (0.3 - 0.5 mm). From far it looks like a black tar stain frequent on coastal rocks. From close one can see that the thallus is cracked into fine, irregular areoles, which are smaller than 1 mm. In the cracks among them black prothallus can be seen. Some of the areoles show the upper most part of immersed perithecia. When the thallus is wet it looks quite differently. The cracks in the thallus disappear and the perithecia tips look differently than in the dry state. Ref.: (1) F.S. Dobson, Lichens, The Richmonds Publishing Ca.LTD (2005), p 456.(2) C.W.Smith, et all, The lichens of Great Britain and Ireland,The British Lichen Society,(2009), p 953.(3) V. Wirth, Die Flechten Baden-Wrttembergs, Teil.2., Ulmer (1995), p 967.
Included On The Following Pages:
This image is not featured in any collections.
Source Information
license

copyright

Amadej Trnkoczy
original

partner site

ID

679662fa13ecfbc2ac9126c2b2fd04c6